Andrej Blatnik
Cankarjeva založba, Slovenia
Andrej Blatnik (1963) is an Associate Professor of Publishing Studies at the University of Ljubljana. He has published five novels, six collections of short stories, five books of cultural studies and a how-to book on writing short stories.
Andrej Blatnik won some major literary awards (the award of the city of Ljubljana, Zlata ptica, the highest award for young artists, the Slovenian national state award, Prešeren Fund, and the Russian best Slavic book of short fiction 'Jugra' award in 2016 among them). His stories were translated into more than 40 languages and published in literary magazines and various anthologies including Best European Fiction 2010 (Dalkey Archive Press 2010) and Short: An International Anthology of Five Centuries of Short Short Stories (Persea Books 2014). He has over 35 books in translation in fourteen languages, including four in English (Northwestern University Press, Dalkey Archive Press), three in German, Turkish, others in Spanish, French, Hungarian, Czech, Slovakian, Russian, Croatian, Serbian, Macedonian, Odia …
Andrej Blatnik has read fiction around the globe, on literary festivals such as PEN World Voices in New York City, Toronto International Festival of Authors, Jaipur Literary Festival and Cosmopolis in Barcelona, and was a participant of the International Writing Program at the University of Iowa, Iowa City, USA, in 1993. He received various fellowships, including Fulbright. A list of his publications is available at www.andrejblatnik.com.
Asli Tunç
Epsilon, Turkey
She was born in Istanbul and received her degree there. She studied international relations. She has been working as a publisher director for five years. In her role as publishing director for Epsilon Yayınevi, which has three labels called Epsilon, Kafka Kitap, and Uçan Fil she is in charge of coming up with publishing strategies and setting up the route to use the appropriate titles to reach the target readers. She has also authored two books as a writer and translated books by authors like Jeff Kinney and James Norbury into Turkish. In addition to her publishing activities, she also produces and hosts a radio program based on literature for the Turkish national radio station TRT.
Aydanur Konez
Kalem Agency, Turkey
 Aydanur Konez was born in Bursa in 1995. She has graduated from Uludag University, International Relations department.
She graduated with a masters degree at Marmara University, Publishing Administration department.
Currently she is working as the Office Coordinator and Junior Literary Agent (children and young adults) at Kalem Agency.
Janika Rüter
Suhrkamp, Deutchland
Janika Rüter studied Slavic Literature and Law in Konstanz, Berlin and St. Petersburg. After several years in the foreign rights department of the Suhrkamp Verlag Berlin she now worksthere as an editor for literature from Eastern and South Eastern Europe, publishing works by Andrej Bitov, Rumena Bužarovska, Lacy Kornitzer, Florjan Lipuš, Dmitri Prigov, Alexei Salnikov, Tomaž Šalamun und Marina Tsvetaeva.
Maria Pau Roca
Agencia Literaria Carmen Balcells, Spain
Maria-Pau Roca (Barcelona, 1964) has worked at the Foreign Rights Dpt at the Carmen Balcells Literary Agency since 2016.  She currently represents Balcells' authors for Eastern European countries. Her work as an international agent began in the field of music, at the Ibercamera Artists Agency and the Tritó music publishing house. She studied Anthropology and English Literature at the University of Barcelona. She has also attended courses in English Literature at the Institute of Continuing Education at the University of Cambridge, and in Narrative and Drama at the Ateneu School of Writing in Barcelona.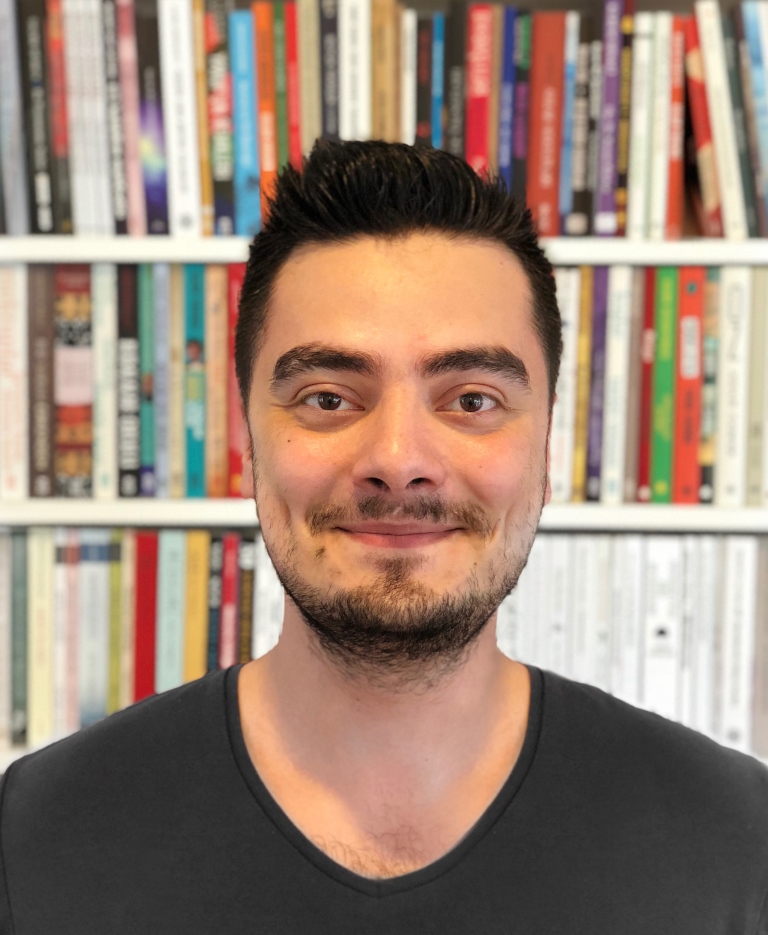 Muhammed Alparslan Demir
Kutu Publishing, Turkey
After working for the greatest online bookstore of Turkey, Kitapyurdu, Demir founded his book-focused startup. It is Biryudumkitap.com, an internationally awarded & supported social enterprise to make people read more books daily, which has more than 300.000 active users. He later founded a traditional publishing house in 2018, Kutu Publishing, the only Balkan-focused publishing house in Turkey. In 2020, new partners joined in Biryudumkitap, also known as Fabula in global markets, he has launched a mobile app for audio book summaries & audio short stories. With more than 600.000 users, Biryudumkitap / Fabula is one of the top audiobook apps in the Turkish & South American market. He was listed as "one of the most influential people from Turkey" (30 Under 30) by Forbes. He loves reading Abasiyanik, Selimovic, Andric, and Jergovic.
Nenad Batkoski
BataPress, North Macedonia
Nenad Batkoski (1958) was born in Vevcani, SFR Macedonia. He completed primary and secondary level education in his native place, and journalism at the Faculty of Political Science in Belgrade (1976-1981). As early as during studies (1979-81) he worked as journalist in the newspaper "Borba", published in Serbian and Croatian in Belgrade and Zagreb, and then worked for ten years as corresponding reported for the same daily newspaper from Skopje. As journalist, he was writing in Serbian, writing articles for other newspapers in Serbia, Croatia, Bosnia and Herzegovina, and Montenegro, and also cooperated with newspapers and magazines from Slovenia, Bulgaria, Switzerland, France… He is an Editor in Chief of Bata press publishing house.
Nermin Mollaoglu
Kalem Agency, Turkey
Nermin Mollaoglu graduated from Trakya University, with B.A. degrees in English Language Teaching. She earned her first master's degree from Connecticut State University and during her second master's degree at İstanbul Bilgi University, she wrote her thesis on the loopholes in rights deals for authors and translators.
In 2005, after working three years as a rights coordinator at YKY, one of the biggest and most prestigious publishers in Turkey, she founded Kalem Agency. She established ITEF, Istanbul International Literature Festival together with Mehmet Demirtaş in 2009. Nermin Mollaoglu was awarded with the International Excellency for The Agencies in 2017 at London Book Fair. She has been to 72 different countries and most of these visits were due to international book fairs and literary festivals.
V C Thomas
V C Thomas Editions, India
V C Thomas is Publisher and Editor at V C Thomas Editions, Kerala, India specializing in translation publishing in Malayalam language one of the most vibrant languages in India, from Indian and Foreign Languages. A post graduate in English Literature from Mahatma Gandhi University, India, he has over 25 years' experience in publishing with national and international publishers. Recipient of Frankfurt Fellowship in 2005 and Zev Birger Jerusalem International Book Fair Fellowship 2017, he is instrumental in introducing a host of renowned international authors to Malayalam.
E mail: vcthomas@gmail.com
Website: www.vcthomaseditions.com